Webinar on Truss-out Bamboo Scaffolding Safety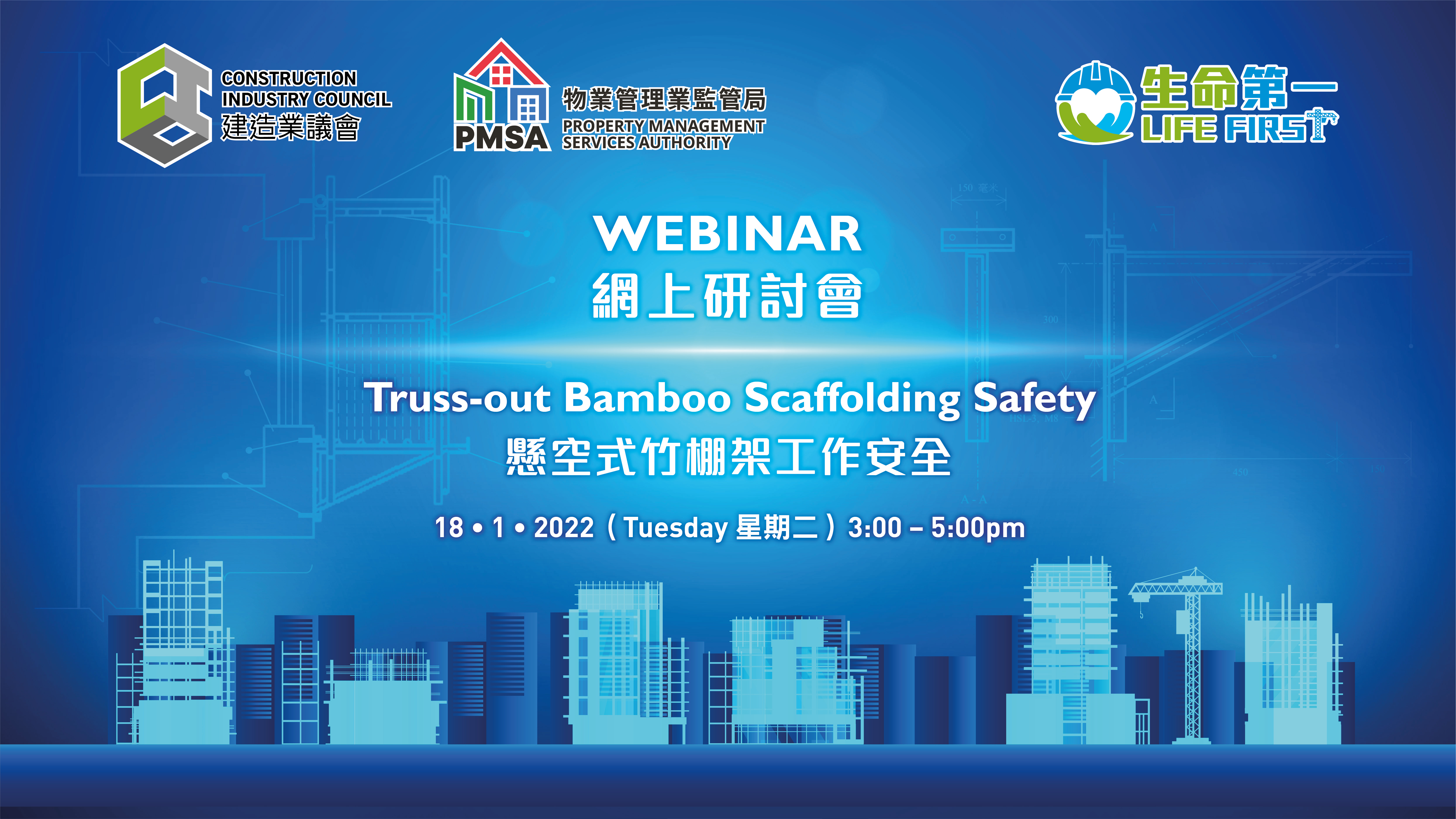 The Construction Industry Council (CIC) had reviewed the typical design and the erection of truss-out bamboo scaffolds, and issued the Guidelines on Safety Enhancement and Notification Arrangement of Truss-out Bamboo Scaffolds in September 2021, with an aim to recommend good practices for the erection of truss-out bamboo scaffolds and formulate safety guidelines on the critical items requiring additional attention.
The CIC will organise a webinar to strengthen the communication with property management practitioners and the related promotions. Participants are expected to have a better understanding on the safety requirements and notification arrangements of truss-out bamboo scaffolding, so as to prevent future accidents.
Date: 18 January 2022
Time: 15:00 - 17:00
Language: Cantonese
Format: Online seminar (webinar)
Attendance Certificate: Attendees who have 80% or above attendance rate and answer MC question(s) during the webinar are eligible to receive the attendance certificate within one month after the webinar. (2 CPD hours suggested)
Speakers:
Mr. CHAN Kai-lam, Deputy Chief Occupational Safety Officer (Development), Labour Department
Ms. Christina LUI, Labour Officer (Labour Inspection Division), Labour Department
Ms Diana PANG, General Manager (Regulatory), Property Management Services Authority
Mr. Allan WONG. Council Member, The Hong Kong Association of Property Management Companies
Mr. Ray TSUI, Senior Consultant, Occupational Safety And Health Council
Mr. Yen CHUNG, Assistant Manager – Industry Development, Construction Industry Council
For enquiry, please contact us at 2100 9499 or email to safetyseminar@cic.hk
Please click HERE to view programme rundown and register!