CIC Power Talk: Rotational Bridge Launching at The Yoho Hub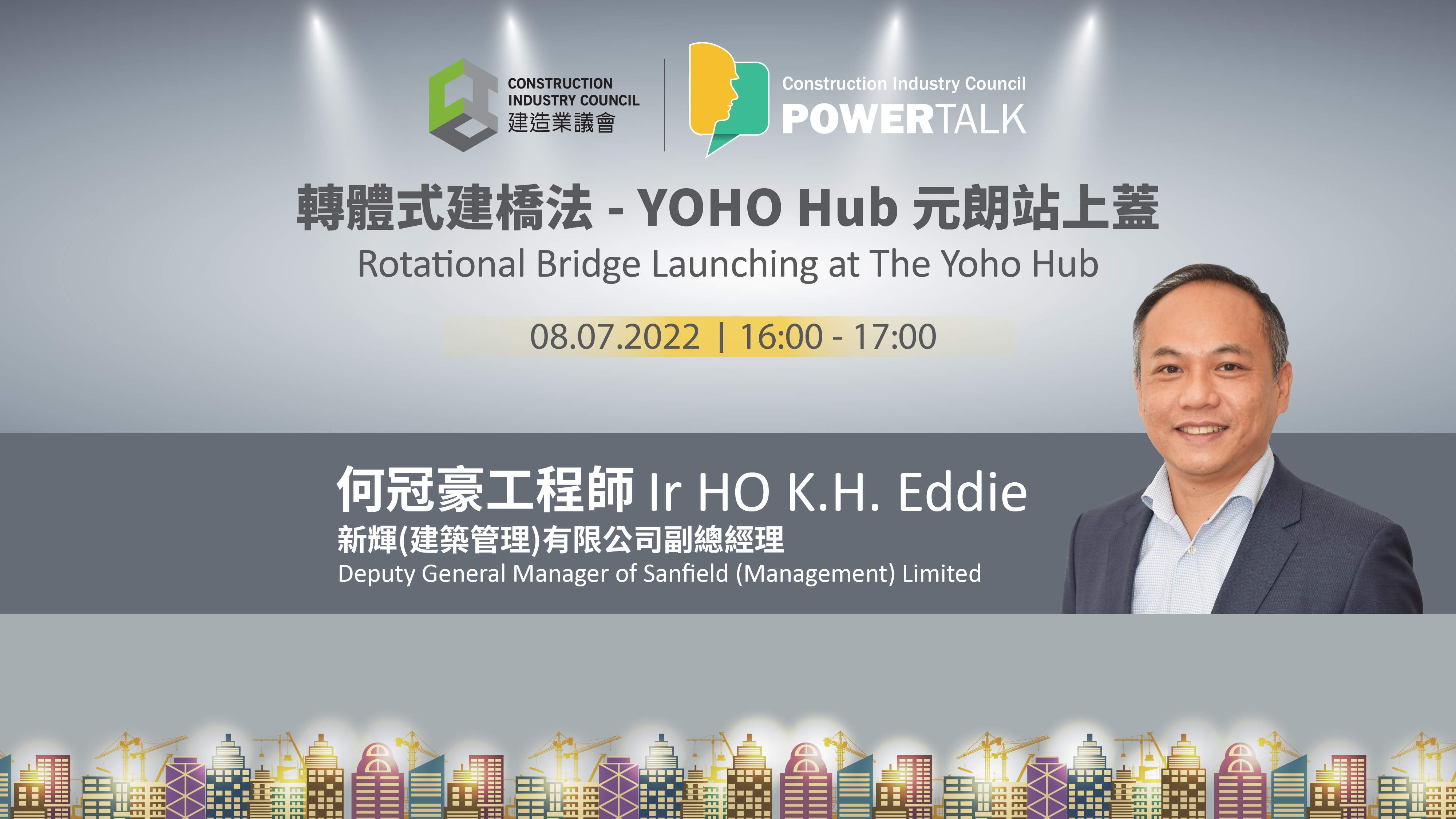 The Rotational Bridge Launching at The Yoho Hub, won The HKIE Innovation Award 2022 Grand Prize (Category II – An Innovative Application of Engineering Theories) and The YOHO Hub, is one of the biggest transit-oriented residential development in Hong Kong. The development is located at MTR Yuen Long Station and spilt into two portions. The northern portion situates atop the station while the southern is located adjacent to the station with a Light Rail track and a major trunk road stood amid. To maximize the connectivity between the residential and shopping malls with the public transports, two link bridges are required serving as a passenger footbridge and an emergency vehicular bridge between the two portions of the development.
Erecting the two bridges in extremely close proximity to these transport hub facilities called for engineers to come up with an innovative method to overcome the engineering challenges. Inspired by the old market "scales", the two bridges unobtrusively appeared in sight in just 4 midnights in August and October 2021. The YOHO Hub is the first ever construction project adopted "Rotational Bridge Launching Method" in Hong Kong. In this episode of the CIC Power Talk, our honorable speakers from Sanfield (Management) Limited (member of Sun Hung Kai Properties Group) will share about the design of safety on this innovation construction method and the roles and responsibilities for the key stakeholders of this project.
Date: 8 July 2022 (Fri)
Time: 16:00 - 17:00
Language: Cantonese
Fee: Free of Charge
Format: Webinar
Speakers:
Ir HO K.H. Eddie, Deputy General Manager of Sanfield (Management) Limited
Should you have any queries, please contact i-club@cic.hk.
Remarks:
An electronic copy of CPD attendance certificate will be issued to participants with over 80% attendance within one month after the live webinar. Any attendance on replay sessions after webinar will not be considered for CPD attendance certificate.
To join the event online, please click the register button above.
Replay video is now exclusive for i-Club members, please register and join i-Club.
Please use full name as your i-Club profile name for issuing the CPD Attendance Certificate. To edit your profile, please click here. No amendment of CPD Attendance Certificate would be allowed.
Please read the Livestorm terms and privacy policy before registration.