CIC Webinar on BIM - Data Harmonisation for Procurement - More Than Just BIM (只提供英文版本)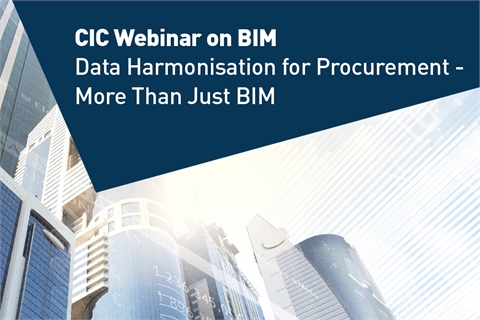 In the late 2021, Development Bureau issued a new Technical Circular (Works) No. 8/2021, announcing the adoption of Building Information Modelling Harmonisation Guidelines for Capital Works Projects in Hong Kong. BIM models and its attributes are harmonised among WDs for information exchange amongst WDs and LandsD. Yet, it is observed a great potential in many aspects of our construction industry that Harmonisation can take place; it will certainly benefit at corporate level of a company or an organisation, as well as the whole building industry for a smarter Hong Kong.
Data, is produced all the time during the design, construction and asset management process, but not in a consistent manner. The value of these data could be unleashed, if data owner, data producer and data users harmonise the data. In particular in this webinar, building data produced at different stages should be useful and usable for the procurement, for its decision making, cost prediction or forecast, when the data collected in harmonised way. It is in line with one of the Smart Government's initiatives of promoting e-tendering with BIM technology.
Hong Kong is heading its development towards a smart city by enhancing innovation and technology in our living and environment, as well as the construction industry. AECOM and C&T will share their views and visions in this webinar to the public.


Webinar Highlights:
Part I – AECOM
Introduction
The need of Harmonisation in HK AEC Industry
Harmonisation is applicable and also necessary for data
Development projects generate a lot of data, but very little are used, especially for procurement
As a data owner, data should be available at no additional cost and be re-used free-of-charge for various decision making during the design, construction and asset management process
The basic principle is to harmonise data via establishing data strategy, managing data capture and applying data mapping for certain purpose, such as procurement
Harmonisation leverages the value of data, which can offer robust basis for decision making, cost prediction or forecast and long-term planning of the organisation

Part II – C&T
Digital transformation is a proven solution for procurement challenges
Data harmonization is the pre-requisite
By adopting procurement technologies, data is captured efficiently under the consideration of compliance, it improves efficiency and achieves cost savings by collecting data for future decision making
A centralized and secured procurement system benefits your organization by unleashing the value of their data
Date: 23 Feb 2022 (Wed)
Time: 15:30 – 17:00
Language: Cantonese presentation with English content
Fee: Free of Charge
Format: Webinar
Speaker:
Thomson LAI, Digital Lead, Asia, AECOM
Constance LAU, Technical Director, Program, Cost, Consultancy, AECOM
Tim LO, Head of Enterprise Software Sales, Computer And Technologies Software (Hong Kong) Limited
Should you have any queries, please contact Ms. Julia LI (email: bimspace@cic.hk; tel: 3199 7274).
Remarks:
An electronic copy of CPD attendance certificate will be issued to participants with over 80% attendance within one month after the live webinar. Any attendance on replay sessions after webinar will not be considered for CPD attendance certificate.
To join the event online, please click the register button below, login/join i-Club member to register.
Replay video is now exclusive for i-Club members, please register and join i-Club.
Please use full name as your i-Club profile name for issuing the CPD Attendance Certificate. To edit your profile, please click here.
Please read the Livestorm terms and privacy policy before registration.