ConTech Accelerator展示日 (只提供英文版本)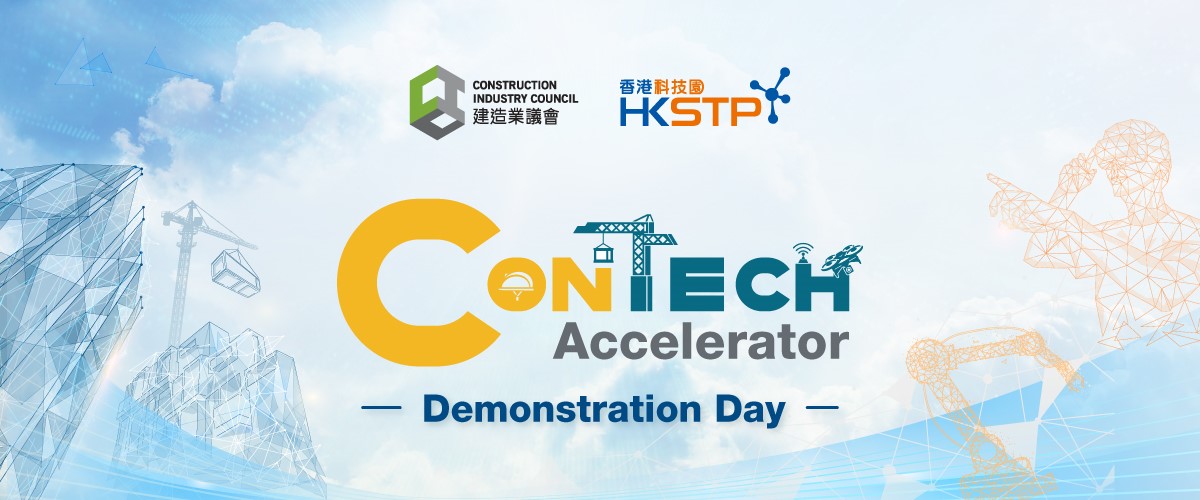 The ConTech Accelerator programme, co-organised by the Construction Industry Council (CIC) and the Hong Kong Science and Technology Parks Corporation (HKSTP), aims to expedite the trial and adoption of construction technology across the industry. The programme provides a platform for pre-ready and mature solutions to undergo trial or large-scale adoption in construction site.

After a year of effort, successful cases have emerged and will be presented and demonstrated to the public, while 11 Tech Venture Exhibitors will showcase their latest ready-to-market technology at the Demonstration Day. As a valued i-Club member, you are cordially invited to attend the Conference and Exhibition in-person, with limited seating available on a first-come, first-served basis. Alternatively, you may also join the Demonstration Presentation online.
Details:
Date: 1 August 2023 (Tuesday)
Time: 15:00 - 18:00 (HKT)
(15:00 Physical Exhibition; 15:30 Hybrid Demonstration Presentation)
Venue: Science Park Charles K. Kao (CKK) (the "Golden Egg")
Language: English
Fee: Free of Charge
Rundown:
Time
Agenda
Speakers
15:00 – 15:30
Physical Exhibition and Networking
-
15:30 – 15:35
Welcome Remarks
Ir Albert CHENG, Executive Director, CIC
15:35 – 15:40
Opening Speech
Mr. Albert WONG, Chief Executive Officer, HKSTP
15:40 – 15:45
Group Photo
-
15:45 – 16:00
Robotic Narrow Space Inspection Solution
Mr. Steven WANG, Digitalisation and Innovation Manager, Dragages Hong Kong Limited
Mr. San WONG, Founder, R2C2 Limited
16:00 – 16:15
Smart Wearable Solution for Real-Time Health and Gas Monitoring
Mr. Andy WONG, Head of Digital G, Gammon Construction Limited
Mr. Roger YIU, Founder, Team Concepts
16:15 – 16:30
AI Video Analytics Solutions for Construction Safety
Mr. Edmond YU, Assistant IT Development Director, Transcendence Company Limited (A member of China Overseas Holdings Ltd.)
Mr. Lenard TAN, CEO, Ailytics Pte Ltd
16:30 – 16:45
Battery Powered AI System for Remote Site Monitoring
Mr. MA Sze Kit, Project Safety Manager, China Road and Bridge Corporation
Mr. Warren PAAU, Co-founder, Karta-X Limited
16:45 – 17:00
Scan to BIM – A SMART Approach for As-Built BIM Model Production via EdgeWise
Mr. HAN Kaibin, BIM Manager, CR Construction Company Limited
Mr. Andy CHEUNG, General Manager, Spatial Technology Limited
17:00 – 17:15
e-Inspection System for Off-Site Construction
Mr. Rob DICKSON, Innovation Lead, Leighton Contractor (Asia) Limited
Mr. Junjie CHEN, Research Assistant Professor, HKU
17:15 – 18:00
Physical Exhibition and Networking
-
立即登入觀看重播!!
Remarks:
To join the event online, please click the register button above, login/join i-Club member to register.
Replay video is now exclusive for i-Club members, please register and join i-Club.
The organisers reserve the right to arrange the seating and change the rundown due to scheduling consideration.

Should you have any inquiries, please contact citac@cic.hk